Meet Dr. Kevin Ihry
Life as a Pharmacist
Even before Dr. Ihry was working as a pharmacist, he was a chiropractic patient. Often, he would see people in the pharmacy that were on multiple prescriptions or who've had multiple surgeries, yet were far from ideal health. With high carbohydrate diets and a lack of exercise, many people are not living  life to their healthiest potential. These are issues that medications can't help with. Dr. Ihry soon realized there was more to healing than surgeries and medications.
As a patient of chiropractic care, he greatly appreciated the benefits of the practice and the aspect of helping people live better lives. With a whole-body natural approach to healing, chiropractic care helps people, naturally.
Changing Paths Toward Natural Healing
Inspired to help people without drugs or surgery, Dr. Ihry chose to change career paths and become a chiropractor. He attended Palmer College of Chiropractic where he enjoyed learning a diverse set of techniques and styles of chiropractic manipulative therapy. He studied combinations of adjustments and nutrition to help his patients heal.
More than Two Decades of Expertise
In practice over 20 years, Dr. Ihry enjoys the mechanical and technical parts of care that allows him to help patients get better. He's passionate about helping those with acute problems regain their health through chiropractic care, lifestyle changes, and rehabilitative exercises.
Dr. Ihry always keeps his patients' best interest in mind. He will do all that he can to help you heal, even if that means referring you to a different specialist. At Ihry Chiropractic, your needs always come first.
A Heart for the Homeless and a Healthy Life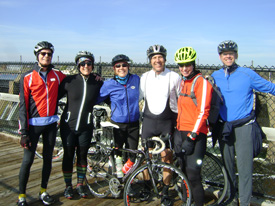 Dr. Ihry works with Churches United for the Homeless, a local organization aimed at helping those less fortunate in the community. Dr. Ihry is also a member and past officer of the North Dakota Chiropractic Association and the American Chiropractic Association.
Dr. Ihry has a passion for cycling and keeps busy exploring the roads of Fargo on his bike. In the spring and fall he enjoys running, and in the winter he goes skiing. A healthy lifestyle is a priority to Dr. Ihry and he spends as much time as possible staying active and getting outdoors (when the weather permits!).
Wondering how Dr. Ihry can help? Give Ihry Chiropractic a call and discover true healing for you and your family.
---
Dr. Kevin Ihry | Fargo Chiropractor | (701) 232-1232